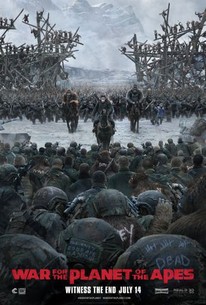 'The War For The Planet of the Apes' takes places two years after 'Dawn of the Planet of the Apes'. Most of the human race across the globe have been wiped out by the outbreak of the ALZ113 V, aka the Simian Virus, while the ape population has thrived and grown in numbers.
Caesar (the incredible Andy Serkis) the leader of the apes is hiding out with his wife Cornella (Judy Geer) and their new born son along with his fellow simians in Muir Woods north of San Francisco. At first look, their life could be seen as idyllic. Unfortunately that is not the case. They must always be on the lookout for the remaining soldiers, who under the orders of the psychopathic Colonel (Woody Harrelson) want nothing more than to kill them.
As the film begins, the apes are attacked by the soldiers and suffer many casualties including the death of Caesar's wife. Caesar wanted nothing more than to live in peace with the humans, but now he's forced to wrestle with his darker instincts and begin his own mythic quest to avenge his kind.
When Caesar and the Colonel are finally face to face they are pitted against each other in an epic battle that will determine the fate of both their species and the future of mankind.
'The War For The Planet of the Apes' directed brilliantly by Matt Reeves is everything a person could want in a the final film of a trilogy. It has a first rate story filled with breathtaking scenery, complex characters (the apes not the humans) and edge of your seat action sequences.
The cast including a simian called Bad Ape (the very funny Steve Zahn), Maurice, (Krin Konoval) the overgrown orgatang with a heart of gold, and Caesar's youngest son Cornelius (Devyn Dalton) are pitch perfect in their performances.
Lastly, Michael Giacchino has created an incredible score that pushes the film's momentum forward.
'War For The Planet of the Apes opens in theaters July 14th, 2017 and it's a definite must see
Podcast: Download
Joan and John Schwartz are ex New Yorkers, living in Los Angeles. They are married and see a lot of films. They usually disagree but always tell it like it is. John is most famous for creating the cult classic films Faces of Death. He has also written for various prime time series and has written movies for both Showtime and HBO. In the world of reality television John has produced, written and directed over 450 segments for various magazine shows He has also written and Executive Produced several Prime-Time Specials. Joan has appeared on the New York Stage on and off Broadway…and has been in several Los Angeles theater productions as well.. Joan has been in several low budget films and at present she is busy writing screenplays with her husband, John.
Latest posts by Joan and John Schwartz (see all)