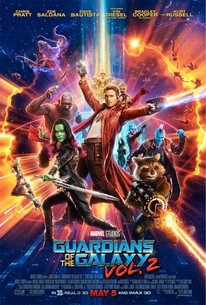 Guardians of the Galaxy is back. In case you need a refresher course, they include: Peter Quill (Chris Pratt), who was abducted from Earth as a child and raised by a group of alien thieves called the Ravagers. Because Quill saved so many people in the first film, he is now quite famous and renowned for his fighting abilities. Also back is Gamora (Zoe Saldana), a former bad girl, Drax,(Dave Bautista) a highly skilled warrior who also happens to be extremely funny; Baby Groot, the most adorable tree-like humanoid you will ever meet voiced by Vin Diesel; and finally Rocket, voiced by Bradley Cooper, a genetically engineered raccoon bounty hunter and mercenary.
When the film begins we find out that they've been hired by Ayesha, (Elizabeth Debicki) the golden High Priestess and leader of the Sovereign race to protect their valuable batteries from an inter dimensional monster, known as the Abilsk. In exchanged they agree to give them Gamora's estranged sister, Nebula, (Karen Gillan) who was caught attempting to steal the batteries.
Things go smoothly at first, but then Rocket decides to steal some of the batteries for himself. Not a good move. The Sovereign attacks the Guardians ship with a fleet of drones. Lucky for our super heroes, the drones are destroyed by a mysterious figure, but the Guardians are forced to crash land on a nearby planet.
Turns out their savior is a dude name Ego, (Kurt Russell) who just happens to be Quill's long lost father…But that's not all. He's also one of the Gods known as Celestials and exists in the form of the living planet that the Guardians now find themselves.
Ego assumes human form to travel the universe and interact with other species, eventually meeting and falling in love with "Quill's human mother. which makes Quill half God.
There is so much more to the plot of 'Guardians' which is brilliantly directed by James Gunn, as well as many more characters, including, Michael Rooker as Fondu Udonta, a blue skinned buccaneer who is the leader of the Ravagers and a fatherly figure to Quill, as well as Ego's pet adorable empath, Mantis (Pom Klementieff) Even Sylvester Stallone makes an appearance as Stakar Ogord, a high ranking Ravager.
'Guardians of the Galaxy, Volume 2' shot in 3D is exciting, extremely funny with a killer music score (especially if you're a fan of songs from the 70's-80's) which drives the film.. It also has gorgeous visuals and killer action scenes. Lastly the film is quite touching with its message about friendship and family. The film which opens in theatre May 5th is a must see for fans and non fans alike.
Podcast: Download
Joan and John Schwartz are ex New Yorkers, living in Los Angeles. They are married and see a lot of films. They usually disagree but always tell it like it is. John is most famous for creating the cult classic films Faces of Death. He has also written for various prime time series and has written movies for both Showtime and HBO. In the world of reality television John has produced, written and directed over 450 segments for various magazine shows He has also written and Executive Produced several Prime-Time Specials. Joan has appeared on the New York Stage on and off Broadway…and has been in several Los Angeles theater productions as well.. Joan has been in several low budget films and at present she is busy writing screenplays with her husband, John.
Latest posts by Joan and John Schwartz (see all)