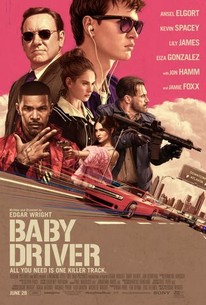 I'd Go Riding With This Dude Anytime
'Baby Driver' is by far the best film of the summer. I went to the press screening a few days ago and have not stopped thinking about it nor have I stopped playing the fantastic sound track.
Edgar Wright ('Shaun of the Dead', Scott Pilgrim vs.the World', 'Hot Fuzz' and 'The World's End') has written and directed one of the most exciting, original, explosive awesome films of 2017.
Baby (Ansel Elgort) an innocent looking getaway driver gets hardened criminals from point A. to point B. and he does it with daredevil flair and a personal soundtrack running through his head. That's because his escape route is plotted to the beat of specific tunes that go from his well-curated iPod straight to his ears, and which translate into expertly timed hairpin turns, gear shifts and evasive maneuvers that leave his passengers and the audience on the edge of their seat.
Wright has given us an action thriller that mixtures killer driving with killer music unlike anything we have every seen. Baby works for Doc (the wonderful Kevin Spacey), a kingpin on a lucky streak of brash daytime bank heists, thanks in part to his faith in Baby's auto acumen. Doc's go-to professionals include former Wall Street type turned outlaw Buddy (Jon Hamm), Buddy's young hot partner in crime, Darling (Eliza Gonzalex) and the impulsive, gun slinging Bats (Jamie Foxx) whose suspicions about Baby begin to create a dangerous rift in an until then smooth running operation.
Of course there's the good girl, (there's always one of those) and in this case her name is Debora (Lily James) a waitress at the local diner. It doesn't take long for Baby to fall for her and question the choices he's made in life.
'Baby Driver' opens on June 28th 2017 and if there's only one film you see this year, make it this one.
Podcast: Download
Joan and John Schwartz are ex New Yorkers, living in Los Angeles. They are married and see a lot of films. They usually disagree but always tell it like it is. John is most famous for creating the cult classic films Faces of Death. He has also written for various prime time series and has written movies for both Showtime and HBO. In the world of reality television John has produced, written and directed over 450 segments for various magazine shows He has also written and Executive Produced several Prime-Time Specials. Joan has appeared on the New York Stage on and off Broadway…and has been in several Los Angeles theater productions as well.. Joan has been in several low budget films and at present she is busy writing screenplays with her husband, John.
Latest posts by Joan and John Schwartz (see all)