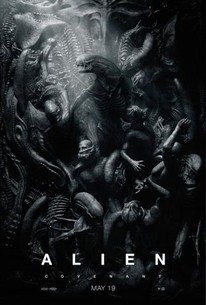 Many people, including myself, weren't that crazy about Ridley Scott's 'Prometheus'. People found it confusing and not up to the original 'Alien' film. Well guess what? Mr. Scott has completely redeemed himself with his new film 'Alien Convenant' It is absolutely fantastic. and if you're a fan, you will not be disappointed.
Not wanting to give too much away, the 'Alien Covenant' is a sequel to Prometheus which came out in 2012. The film which takes place in 2104 stars the wonderful Michael Fassbender as the android Walter and David, Katherine Waterston (yes she's the Sigourney Weaver of the film), Billy Crudup, as the reluctant ship's Captain, and Danny McBride, Carmen Ejogo, Amy Seimetz, Jussie Smollett, Callie Hernandez Nathaniel Dean, and Demian Bichir who make up the other members of the crew.
They are responsible for getting their 2000 plus passengers to an uncharted planet which will become their new home. When the film opens everyone, except for Walter, the android, are in suspended animation aboard the colony ship Covenant. Through an unforeseen circumstance, the crew is awaken. Their ship has been damaged and they don't think they will reach their destination which is still seven years away. Against his better judgement, the Captain decides to land on an uncharted planet. It's here they meet the android David, sole survivor of the ill-fated Prometheus expedition. Read more…At first, he acts like the perfect host, but soon David and the planet are revealed to be far more dangerous than the crew could every imagine.
'Alien Convenant' written by John Logan and Dante Harper is the second installment in the Alien prequel series. There will be one more film which leads up to the original 'Alien' film.
'Alien Convenant' is exciting, intense, scary as hell and surprising. The film opens Friday, May 19, 2017. Don't miss it.
Podcast: Download
Joan and John Schwartz are ex New Yorkers, living in Los Angeles. They are married and see a lot of films. They usually disagree but always tell it like it is. John is most famous for creating the cult classic films Faces of Death. He has also written for various prime time series and has written movies for both Showtime and HBO. In the world of reality television John has produced, written and directed over 450 segments for various magazine shows He has also written and Executive Produced several Prime-Time Specials. Joan has appeared on the New York Stage on and off Broadway…and has been in several Los Angeles theater productions as well.. Joan has been in several low budget films and at present she is busy writing screenplays with her husband, John.
Latest posts by Joan and John Schwartz (see all)